Sree Narayana Study Centre
Sree Narayana Study Centre aims to spread the teachings and thoughts of Sree Narayana Guru among students and teachers of Sree Narayana Guru College Chelannur. For this purpose Study Centre conducts seminars, speeches, debates and various other competitions.
Convener
Dr. Santhosh C R
Members
Lt. Dr. Sindhukrishnadas T
Dr. Athma Jayaprakash
Sri. Jithesh C P
Smt. Priyanka V
One Day Seminar on "The Influence of Narayana Guru's Thoughts on Our Constitution"
Sree Narayana Study Centre conducted a one day seminar on 13th March 2023 in the college seminar hall. The seminar commenced with the prayer at 11am and Dr. Santhosh C. R, coordinator of SNSC welcomed the gathering. Dr. Kumar S P, Principal chaired the function. Dr.K M Anil, Professor, Ezhuthachan Study Centre, Malayalam University, presented the paper on the influence of Narayana Guru's thoughts on our constitution. The presentation was informative and thought provoking. A fruitful discussion was held after the paper presentation. Dr. Athma Jayaprakash, coordinator,IQAC and Smt. Lesitha K R, HOD, Department of Botany delivered the felicitations in the programme. Seminar ended with the vote of thanks by Dr. Deepesh Karimbunkara, HOD of Malayalam.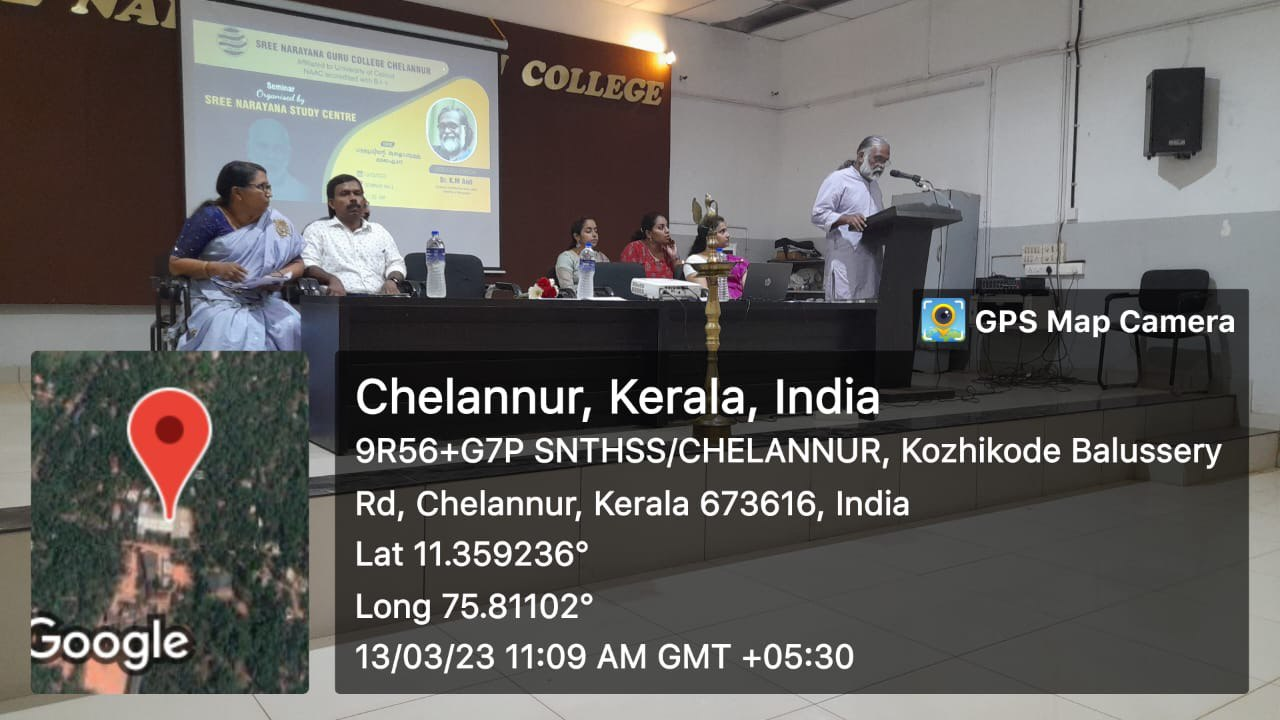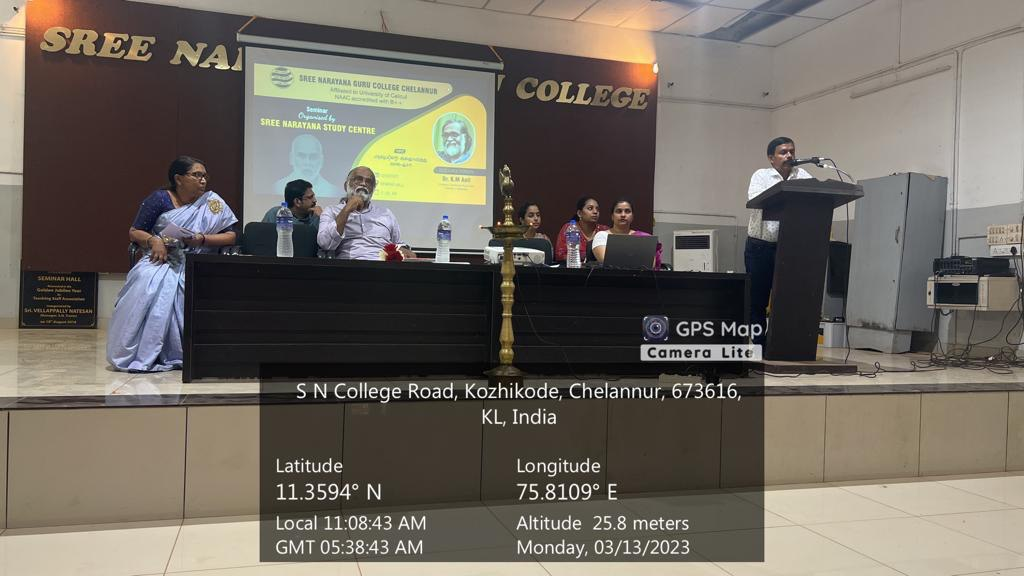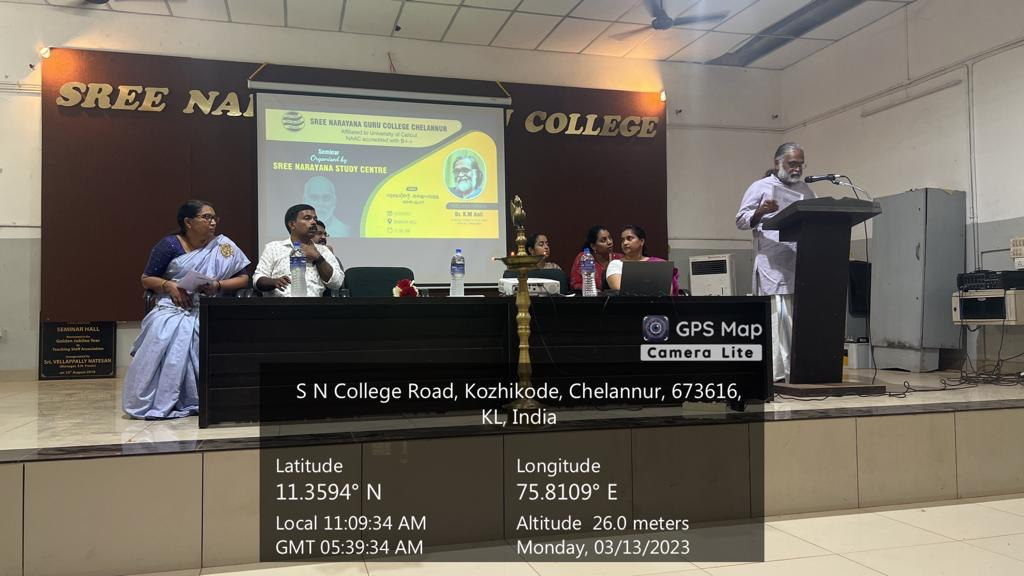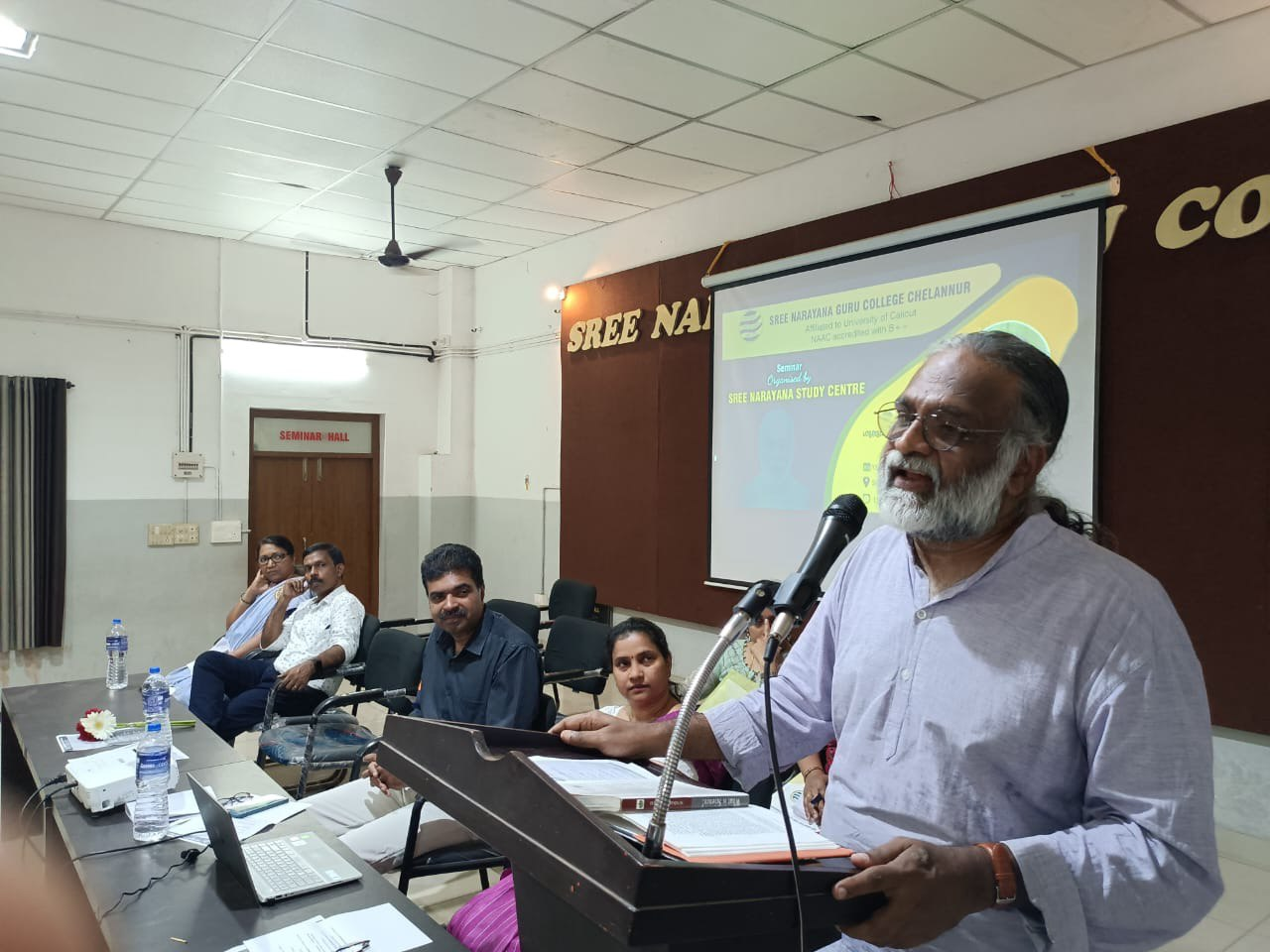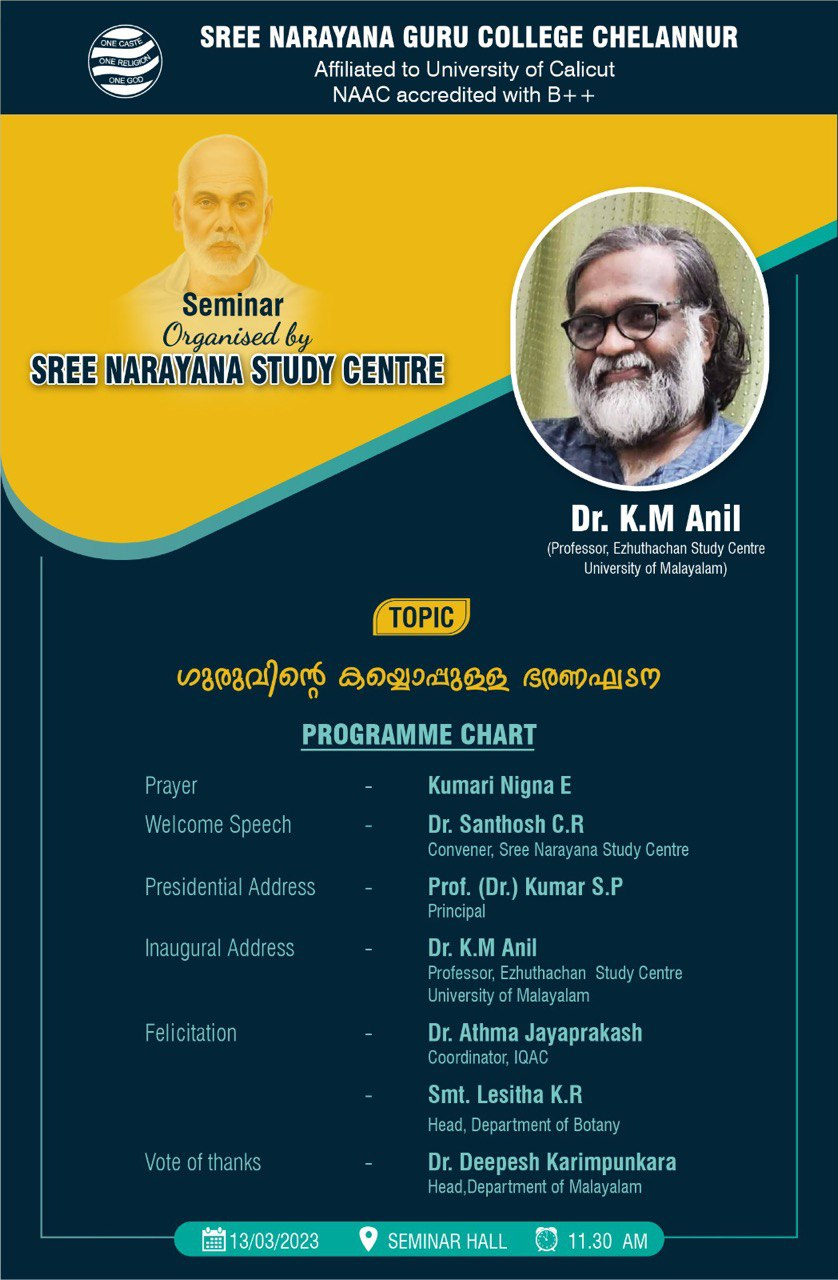 ---
Guru Vijnaneeyam
Department of Sanskrit and Sree Narayana Study Centre jointly conducted a three-day exibition "Guru vijnaneeyam" connected with the life and philosophy of Narayana Guru on the eve of the Golden Jubilee celebrations of the college from 4 to 5 October 2017. Rare and unique pictures Guru and thousands of books written on Narayana Guru were exhibited in the function. Dr.K Sugthan, Rtd Professor of Kozhikode Medical College had inaugurated the three day exibition. Dr.Santhosh C R Coordinator of Sree Narayana Study Centre gave the welcome speech and Prof. V R Sudheesh, Principal SNGC chaired the function. Dr.V K Vijayan, former Principal and SK Jyothilakshmi, coordinator IQAC gave felicitations. Dr. Joobi V P delivered vote of thanks. As a part of the exhibition on 5 th October 2017 the rendering of Sree Narayana Guru's verses was also done by the college students. On the last day,6th October 2017 a mega quiz competition for college students from the different colleges of Kozhikode district was organised. The exhibition was a fruitful venture with the presence of public including personalities from various fields, Teachers and students from different educational institutions.