National Service Scheme (N.S.S.)
---
Two NSS units No.19 and No.33 function in our college with 50 students in each unit. Sri. Vineesh K.P. and Sri. Rejish M.T. are the NSS Programme Officers.
Achievements by Faculty
Dr. Anusmitha N
State Award for Best NSS Programme Officer (2015-16)
University Award for Best NSS Programme Officer (2015-16)
University Award for Best NSS Programme Officer (2014-15)
National Young Leader's Award by National Sports Council to our College for NSS activities during 2015-16 along with a Cash award of Rs.35,000/-
---
Activities 2021-22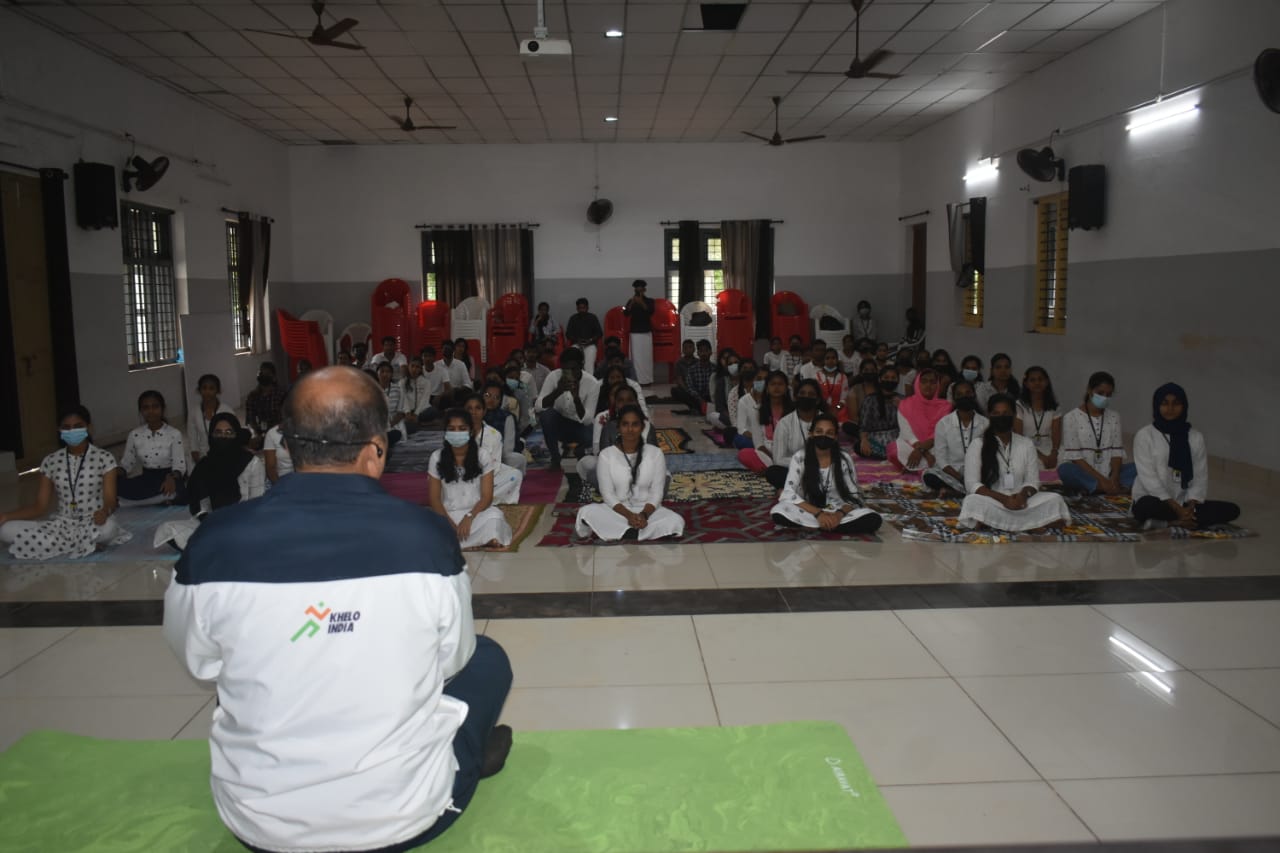 Yoga Day Celebration at Sree Narayana Guru College Chelannur Organized By NSS Unit 19&33
---
Activities 2020-21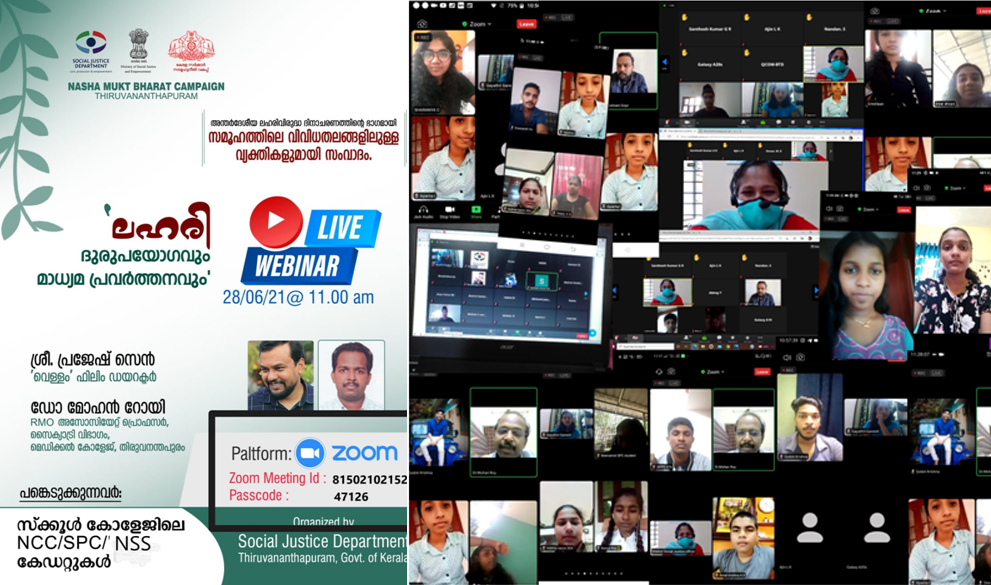 On behalf of NASHA MUKTH BHARATH CAMPAIGN, Ministry of Social justice and Social Justice Department jointly coordinated a live webinar on the topic 'LAHARI DURUPAYOGAVUM MADHYAMA PRAVARTHANAVUM' through zoom meet on 28th June 2021 at 11.00am, for NSS, SPC, NCC cadets. Mr. Prajesh Sen (Director of the moviel VELLAM) and Dr. Mohan Roy (RMO Associate Professor, Psychiatry department, Medical College, Thiruvananthapuram) handled the sessions. Around 40 Volunteers from unit 19 & 33 participated. Anitha, Megna and some others raised their doubts and faculties cleared it. The session was verymuch useful and helpful for us.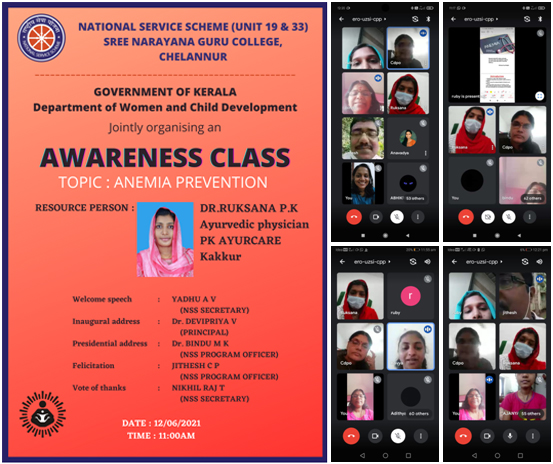 National Service Scheme unit 19 and 33 of Sree Narayana Guru College Chelannur and Department of Women and Child Development, Government of Kerala jointly organized *CAMPAIGN 12*,an awareness program conducted state wide on the topic *ANEMIA PREVENTION*
The session was conducted through google meet on 12th June 2021.
Meet started with NSS song by Gayathri. Welcome Speech was delivered by Yadhu AV (Unit secretary).
Inaugural address was done by Dr. Devipriya V (Principal SNGC Chelannur).
Dr. Ruksana PK (Ayurvedic physician, PK Ayurcare, Kakkur) was the resource person. Dr Ruksana talked on the key topic of *" Campaign- 12" - 'Anemia Prevention'*. Mr. Jithesh CP (NSS Program Officer) felicitated the meet.
An interactive session was also there. Volunteers raised their doubts and resource person cleared it. Dr. Bindu MK (NSS Program Officer) presided over the session. Vote of thanks was delivered by Nikhil Raj T (Unit Secretary).
International Yoga Day 2021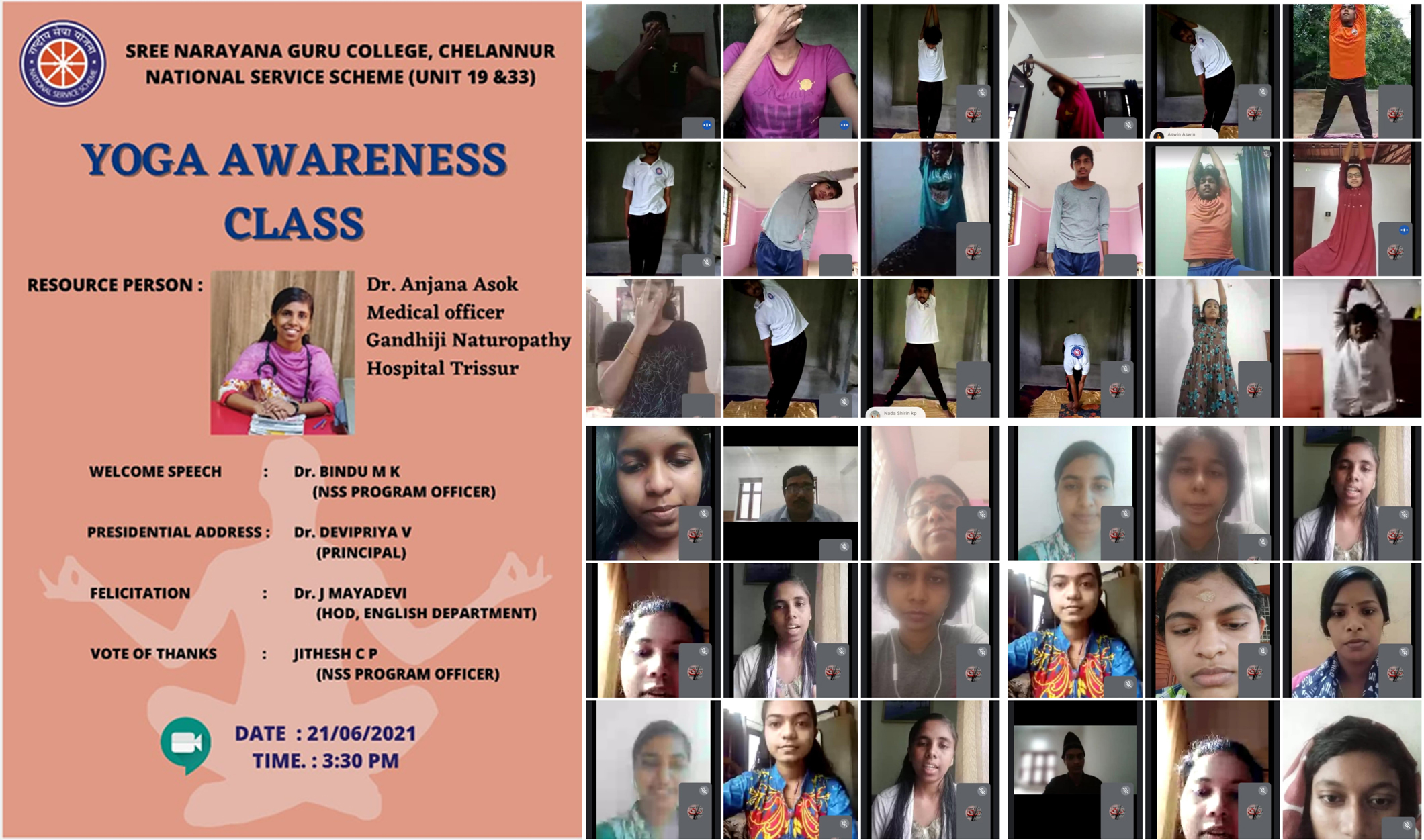 A sound mind lives in a sound body. So, Both mental and physical health are important. Yoga helps us to improve both. National Service Scheme unit 19 and 33 of Sree Narayana Guru College, Chelannur conducted several programs on behalf of International Yoga Day 2021 on June 21 at 7.00 am. Volunteers practiced yoga through Google meet. Abhinav (NSS Volunteer) lead the meet. NSS Secretaries controlled the session.
The NSS unit 19 and unit 33 of SN college chelannur conducted a yoga awareness class through Google meet.Theprogramme started with the NSS song by ManeeshaEN.The welcome speech was delivered by Dr.Bindu MK(NSS Programme Officer). Presidential address was done by Dr.Devipriya. V (Principal SNGC Chelannur). Felicitation speech of the programme was by Dr.J.Maya Devi (HOD of English department) Dr. Anjana Asok, medical officer of Gandhiji Neuropathy Hospital, Thrissur was our chief guest. She explained about the importance of yoga in our day - to - day life. She made us aware about different types of yoga positions and the role of yoga in respiratory functions.And she also explained about the precautions to be taken by any patients while doing yoga.
Many students raised their doubts and she clearly resolved it.
Vote of thanks was by the NSS programme officer Mr. Jithesh CP. Nikhil (NSS Secratary), Jini (NSS Secratary), Kavya (NSS Secratary),Yadhu AV (NSS Secratary) and Anitha also spoke in the awareness class. As a part of yoga day volunteers was divided in different groups and made yoga videos.
International Day Against Drug Abuse And Illicit Trafficking

On the occasion of international Day against drug abuse and illicit trafficking on 26 June, 2021,units 19 and 33 of the National Service Scheme organized various events under the slogan "Share Anti Drug Facts, Save Lives". The programmes were organized to mobilise and educate the youth to fight against the menace of drugs which is eating away at the mordern society.
Excise Preventive Officer ManojKrishneswari (Vimukthi mission master trainer, Alappuzha) spoke on the danger of intoxicants affecting the society. Program officer Dr:Bindu MK welcomed the gathering which was presided over by the college principal. Dr. Devipriya V and Mr. Jithesh. CP expressed vote of thanks. Kavya, Jini, Yadhu, Nikhil, Gayathri, Gobin, Ithihas and Muhsina spoke during the discussion. Anchoring was done by Sradha. Anupama started the program by singing the NSS anthem. Manoj sir taught us to see the full light of the dark ages. Vaishnav, Lakshmi, Gayathri, Akhila and Adithya provided a platform for discussion with questions and answers, and the importance of the Anti- Drug Day was deeply ingrained in our minds and led to the idea that each of us should join hands for a drug-free nation.
Pledge Against Drug

The volunteers in NSS 19&33 units were divided into 6 groups of 20 members and named as Cannabinoids, Heroin, Cocaine, Morphine, Nexium and Magic mushroom according to the importance of Anti Drug day. The NSS volunteers organized a competitive art programme through online media, against drug abuse, instructing each group to perform for 20 minutes. All six groups made the event a success with different ideas and excellent presentation. Digital painting, anti-drug posters, videos, sound drama-"Addiction", drama, lighting a candle to evoke hope in the face of the dark ages from the scourge of intoxication, speeches, anti-drug messages, songs and various other activities were organized. Team Nexium won first place and Team Cocaine and Magic mushroom shared second place at the competition. The programme was concluded by taking a pledge, that is the duty of all of us to fight for a drug free society and to constantly raise awareness about the physical, mental and social repercussion of intoxication and that I will not use or induce intoxicating products. NSS volunteer Adwaith M sang the NSS anthem and NSS program officer Dr. Bindhu M K, Jithesh C P, senior secretaries Nikhil Raj T, Jini T K, Kavya M A, Yadhu A V and secretaries Gayathri Ganesh, Gobin Krishna G J, Ithihas Mohan K M, MuhsinaNiyas spoke.
National Reading Day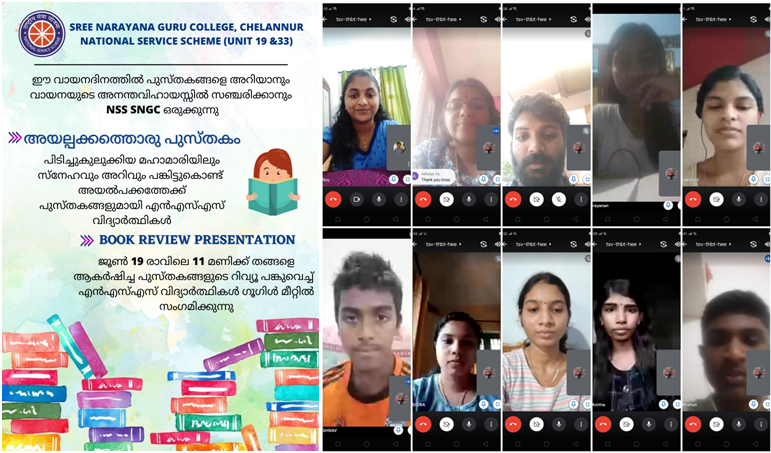 June 19, the National Reading day is celebrated in honor of P N Panikker, the founder of Library Movement. National Service Scheme unit 19 and 33 of Sree Narayana Guru College, Chelannur conducted several programs. Volunteers gifted a book to their neighborhood and the program was named as *AYALPAKKATHORU PUSTHAKAM*.
Reading day was celebrated through Google meet at 11 'O' clock. Meet started with the NSS Song by Gayathri. Kavya (secretary, NSS) volunteered the meet. Goutham Krishna, Ashitha, Amarnath, Vyshnav, Abhay, Vishnu, Ajanya, Gayathri K, Sachindev, Midhun, Sreenidhi and Anusha presented reviews about their favorite books. Volunteers conducted several cultural programs on Department level like singing, book review presentation, interaction, etc. Dr. MK Bindu (Program Officer), Mr. Jithesh CP (Program officer) and Yadhu AV (NSS Secretary) shared their thoughts about reading. Vote of Thanks was delivered by Jini (NSS Secretary)
Seminar competition - "Let Us Protect the World We Live In- Conserve The Environment"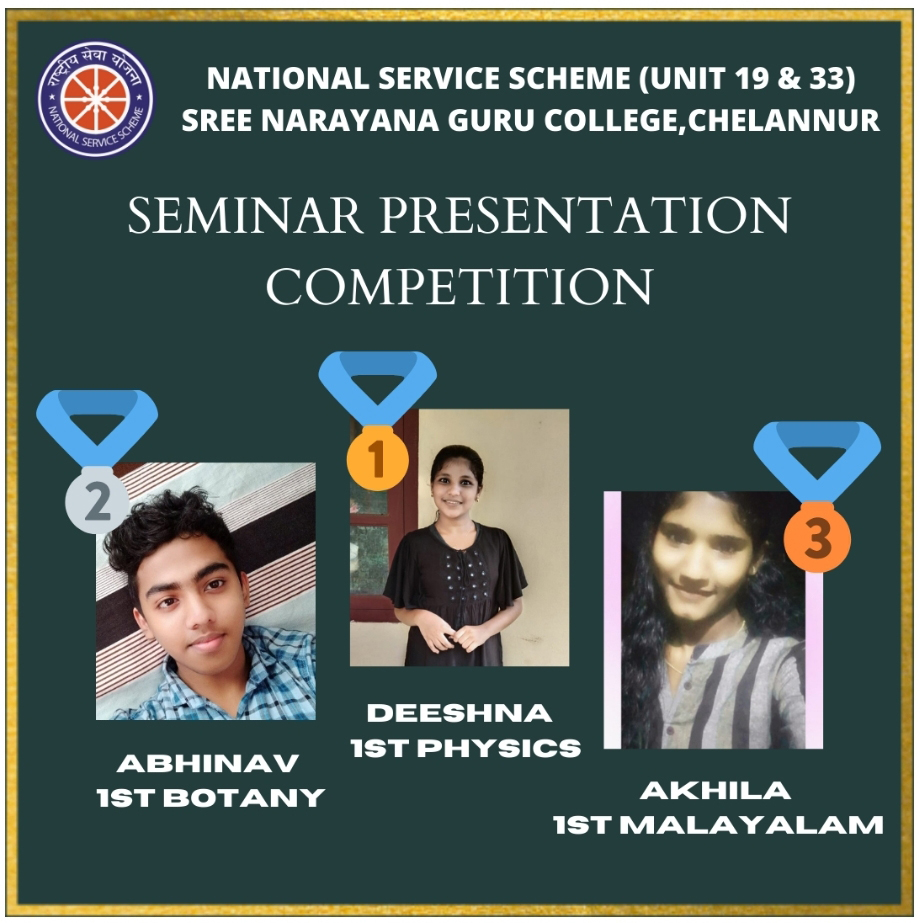 National Service Scheme unit 19 and 33 of Sree Narayana Guru College, Chelannur conducted a seminar competition for all SNGC students in the topic "Let Us Protect the World We Live In- Conserve The Environment". Miss Deeshna of first year B.Sc. Physics, Mr. Abhinav of first year B.S.. Botany and Miss Akhila of first year BA Malayalam bagged the first, second and third prize respectively.
---
Activities 2019-20
NSS volunteers with Hon'ble Minister Sri. A.K. Saseendran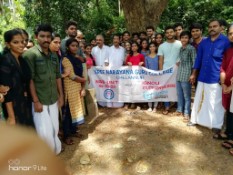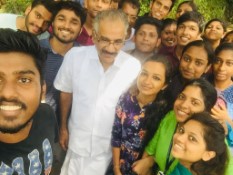 Anti Narcotic Club & NSS Awareness against Drug Abuse 2019-20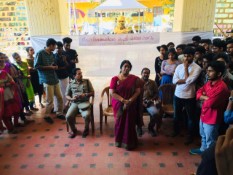 ---
Activities 2018-19
Flood Relief at Eengappuzha 2018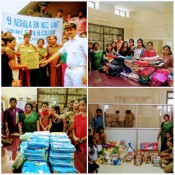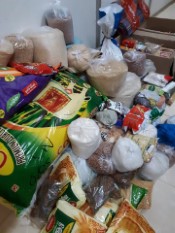 ---
Activities 2015-16
NSS National Young Leader's Award