Library cum Reading Room
---
College provides facility to all students for reading and borrowing books. Now the library has more than 29,000 books, subscription to 16 journals and 10 magazines. The Library is fully automated including KOHA library Management software. Library has a reading area, reference section and stack room. Library is well equipped with online database like, NLIST-INFLIBNET.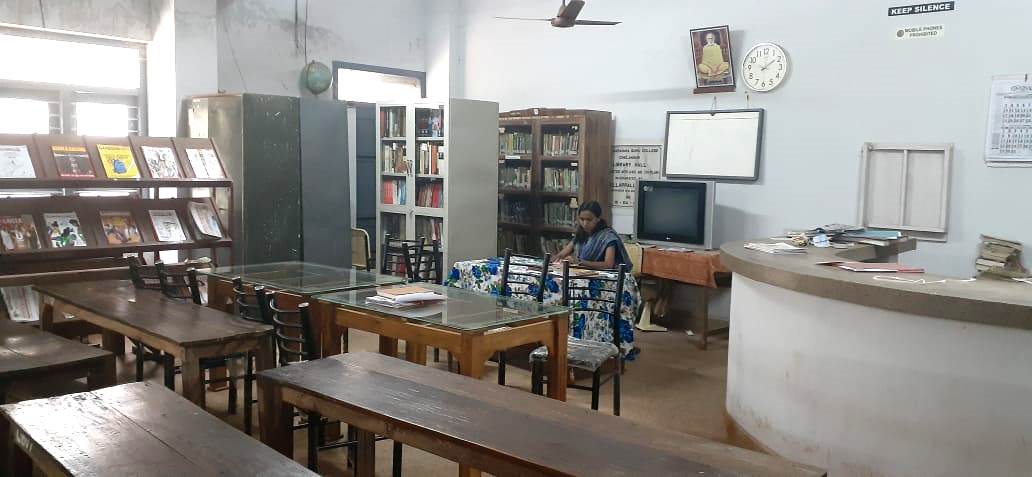 Librarian: Smt. Aswani BG
---
Rules
The General library opens from 9:30 am. to 4:30 pm. on all days except Sundays and public holidays.
Books of reference will be issued only from 12:30 pm. to 1:30 pm and 3:30 pm to 4:15 pm. Students are not permitted to take home books belonging to the reference section.
A student is permitted to borrow, at a time, only two volumes and these volumes shall not belong to the same section.
Books taken out by students shall be returned within 14 days. Failure to return a book on the due date entails a fine of Rs. 1/- per day for each volume retained. Sundays and holidays be excluded.
A student against whom there is any fine or other outstanding charge will not be allowed to borrow books.
Transfer or sub lending of books is strictly prohibited.
Marking/underlining in any books, manuscripts or map belonging to the library is absolutely forbidden.
Books which have been borrowed from the library must be returned forthwith when a requisition is made by the Librarian. Failure to do so will involve the liability to pay a special fine.
When borrowing a book, the student shall bring to the notice of the librarian, any damage that may be in the book. Otherwise they will be held responsible for such damage.
If a book is lost, the student concerned will have to replace the book or pay the current price of the book and fine.
No paper or periodical lying on the table may be removed from the reading room or from the place allotted to it.
Students are not permitted to remove current number of periodicals from the room.
Loud reading and talking in the reading room are strictly forbidden.
Any loss or damage will have to be compensated by the person responsible for it.